studio notes
Jan 03
[video]
Floral series - still life.  oil on canvas 36x36". 
Laid in the backgrounds on a series of three floral paintings that will go into the living room of a client.  Carnations will be on the left, tulips on the right and sunflowers on the bottom.
Since all three will be side by side, I'm thinking the darker sunflower painting will go in the middle of the other two. 
Jan 01
Roses by Samuel John Peploe.  [1920-1925]. 
Studying art always presents fantastic surprises. This morning, I discovered a still life by Samuel Peploe, a Scottish painter in the early teens of the 20th century.  Now, I'm on a quest to research all of his work, sketch and study his techniques.  Its evident during the early 20th century the linear and edgy influence of cubism in his work.  In the 1920's it seemed his work began to smooth out, yet adopt many of the geometric principles are still utilized. 
                                                              Still Life of Fruit,  Samuel Peploe
I'd like to share the Google image search of Peploe and roses - it's a visual fireworks show of hundreds of beautiful floral still life.  Has the textural and brushwork of Cezzane and the bright hues of Kandinsky.  Peploe's use of dark blacks in shadowing and edges brings the light whites and cream colors alive.  Something I don't think I have the courage to attempt in my work. 
                         Roses in a Brown Jar by Samuel Peploe
National Galleries of Scotland has a nice collection of his work.  I'm off to grab some pastels, a pad and experiment with some of Peploe's concepts. I'll post some pictures later.
What do you think of his work?  Let me know your reactions.
Dec 28
Wassily Kandinsky.  Composition V 1911.

According to Inventing Abstraction curator Leah Dickerman at MOMA in New York, after hearing Arnold Schönberg's Second String Quartet, artist Wassily Kandinsky painted Impression 3 (Concert) [pictured above] and invited the composer to exhibit his own painting's with Kandinsky's Blue Rider group.  According to Dickerman, Schönberg's Second String Quartet, brought Kandinsky into the realm of abstraction in his art. 
Part of the exhibit is a revealing "social graph" of Kandinsky and his compadres of the time.  Be sure to click on each name as you browse the graphic as its interactive with pieces of art influences by the artist's peers. 
It is noteworthy to view abstract art in the early 20th Century through this lens as it clearly delineates abstract art as a conglomeration of music, art, and poetry as opposed to an autonomous conception of one artist.
In partnership with MOMA, WQXR of New York has put together a playlist illuminating the musical influences of music on this genre of abstract artists.
And the best for last, give yourself a treat and listen to this fantastic interview with Leah Dickerman on the Modern Art Notes Podcast to enjoy this topic from start to finish.  To see what amazing combustive artistry comes forth from you, here is  Arnold Schönberg's String Quartet No. 2.
Michael Accorsi is an artist, painter working from his studio in Northern California. He writes about art on his Plotlines art blog on Tumblr. Connect with Michael on Facebook and Twitter as well.  Subscribe to his studio newsletter here. 
Dec 27
Increase your Email Subscriptions Today!
Expand your newsletter and blog followers today with some of my suggestions below.  The volume of marketing from small businesses working from home is exploding, so don't be shy, get out there and be proud of your amazing work and ideas.
Obvious Stuff:
   Plugins for your Facebook, next newsletter, referral process (word of mouth #1),
   Make sure the url is the direct subscription page at the bottom of every post.  See sample:  LINK
   Put in your signature for your email.  Same url as above.
   Provide newsletter history or archive link (see your email client). 
   Timing - frequent and informative, not too often.
   Don't sell, inspire and inform your clients. 
   Have frequent updates and direction.  Tell readers what's coming in future newsletters.
Offer Freebies
   Decorating, lighting house, creating still life with decor
   Color!  New, fresh combinations: Experiments you have tried in your work.
   Free postcard, print card or sample - autograph and thank client.
   Painting giveaway
   Free Product - art or decor related
   eBook articles:  that compile to a larger book: Offer a tease (sample paragraph, partial list)…
   Tangible Prize… take a picture of the product.  Make it fun and yes, its completely worth the cost! 
Make it Interactive:
   Guest Write ups:  Tell me about your memories from France and Italy (when promoting art from that region).
   Contests:  Guess this artist, have a survey (Survey Monkey) and gather important information from your customers.
   How To's & Techniques - what are you learning?  Share it!
   Breaking News… local shows, exhibits, other artists.
   Guest Blogger: Have a client, colleague write a full segment.
   Social Media How to…cool updates, new features on social media.
   Thank and write feedback for comments and follow ups.
   Ask Questions at the end of the post - post answers in next newsletter.
   Have clients help provide a name for a piece up for auction.
Reach Out:
Post on content related forums, blogs, etc. frequently, put url in (if permitted) or in your signature for forum. (This step is a bit of a drag as you will most likely have to create an account for each forum, many times a forum may have a waiting period until you are able to post.)  The upside?  Your are pinpointing and reaching your direct topical audience directly and for free!
Get out and meet people, go to shows, support other artists, classes, museums, and public events. 
Promote and contribute to charity:  Hurricane Sandy, School of the Blind, Helping victims.  Always good to be community building.
The best for last - Surprise your followers!  Do something fun, crazy, sell a painting, video yourself delivering the money to a charity.  Provide bloopers of funny mistakes and mishaps making a video. 
Do you have suggestions to add to this list?  If so, post below or email them to me and I'll add your suggestions so others can have a nice list to work from. 
Receive more updates and jubulations on my newsletter.  :)  And send yours back!  Who knows, I may send you a free art card. 
Jun 09
by Michael Accorsi
On June 2nd, Oakland ProArts Gallery gallery helped host East Bay Open Studios which promoted the work of over 400 artists from Fremont to Richmond. The event was fantastic. Garages, studios, houses, apartments, warehouses were full of art. Seemingly, every street and alley had something vibrant and creative happening. It validated the cliche Art is the only thing left in the world as it brought people together.
I wrote up a brief summary in an earlier blog post if you would like to read more.  Of the hundred or so artists that I saw at Open Studios, the expressive paintings of artist Paula Boas stood out with their movement and depth.  Artistically, her work reveals a sense of natural tension as elements of simplicity-complexity and competing styles of clean edges-expressive strokes vie for your attention. I had the pleasure to meet and interview Paula about her work - so sit back with a fruity summer drink and enjoy the colorful abstract paintings of Paula Boas.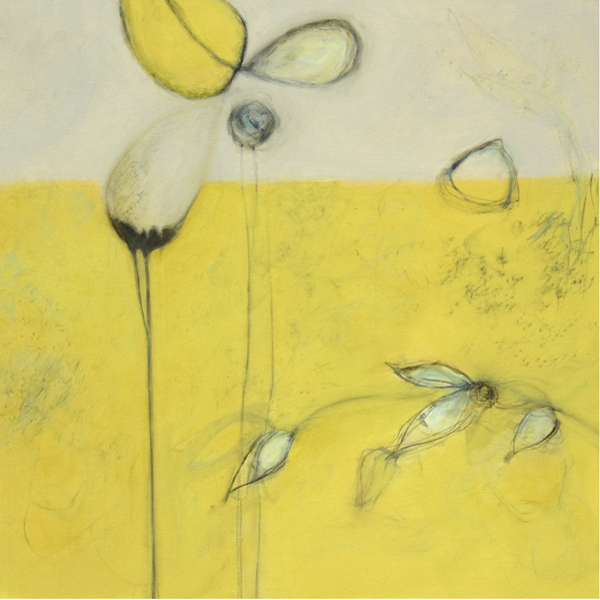 Spring IV, acrylic on Canvas, 36 x 36 in.
  "My works are expressions of motion created from handwriting. Each of the paintings start with examples of handwriting, the design of handwriting – the shapes, forms, type of line whether it's bold, thin, the effect and our reaction to handwriting."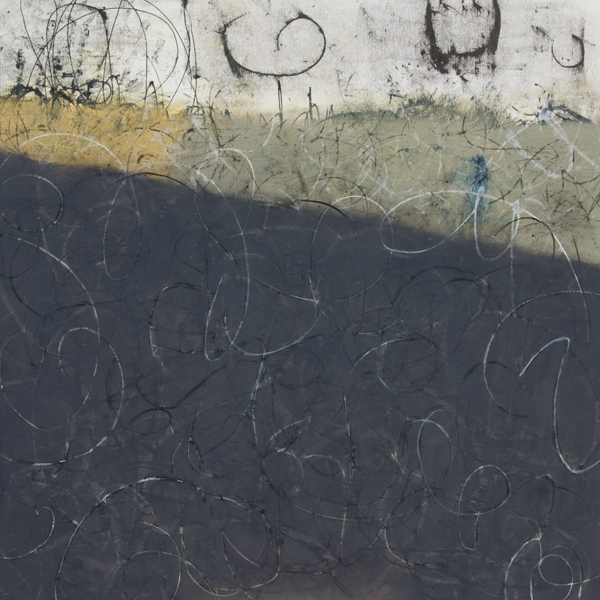 Growth acrylic on Canvas, 36 x 36 in.
"In the work titled Growth I have multiple layers of handwriting and the movement of the letters, showing through. The object is to be able to see things coming up through the canvas underneath the painting surface." "I tend to be non-objective in most of my work but like the painting Spring IV (above) - leaf symbolism gets into my work, I didn't plan this, the painting kind of evolved this way. I like how the yellow green work the form of the leaf that comes across in this painting."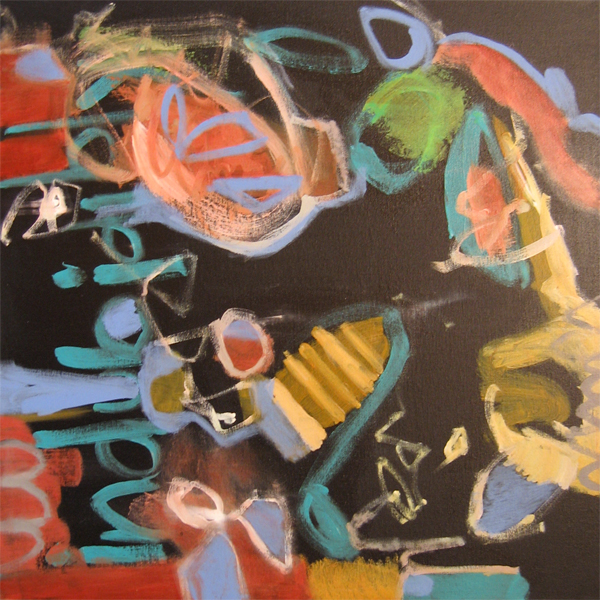 Underpainting for Floral Essence, acrylic on Canvas, 24 x 24 in.
An example of the process behind Paula's work is shown in the photograph above, Underpainting for Floral Essence. Boas states, "I am interested in the visual effects of using text and script as line, shape or pattern. My lyrical works evolve as I reveal, obscure and re-expose layers of paint, script, graphite, and paper to create subtle yet complex surfaces. I start with an idea or color sense, but then improvisation takes over and the paintings move in new and sometimes unexpected directions."
"In the painting Floral Essence I incorporated the word indubitably into to the painting as when I was working on this piece my nephew was using the word endlessly. I worked in more flowing shapes and movement, then quiet the painting, constantly eliminating."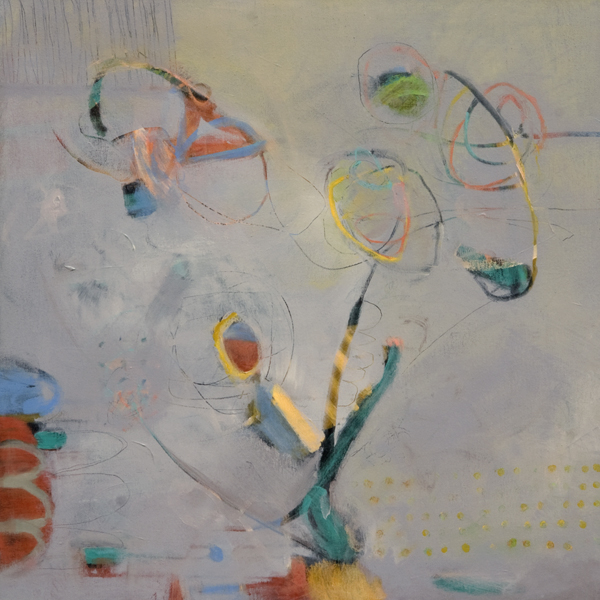 Floral Essence, acrylic on Canvas, 24 x 24 in.
"In the painting Escaping (pictured below), is another way of using form and shape in handwriting. Its an improvisational process - bright layers of paint, then I lift it through, you can't paint that line the same way you can lift it out or scrape it."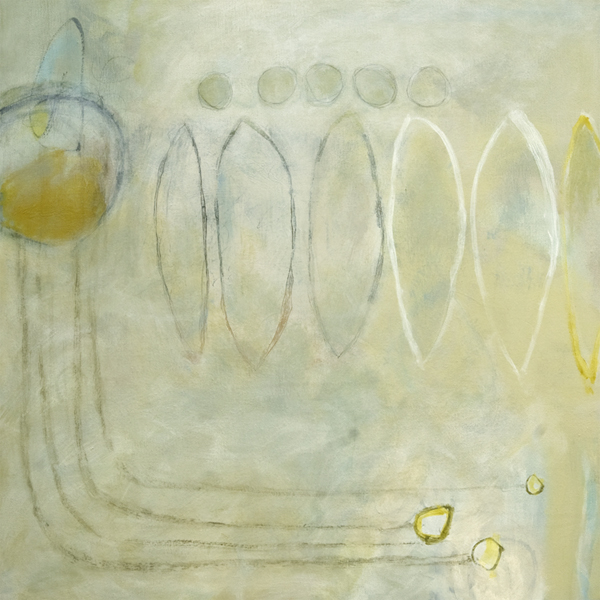 Escaping, acrylic on Canvas, 30 x 30 in.
  "In the painting Tranquil Message it's about using the elements of the water's edge. Bringing into it a lot of writing, pulling together a drawing point of sea to sky, all of these elements bring forth a sense of movement in their abstractions."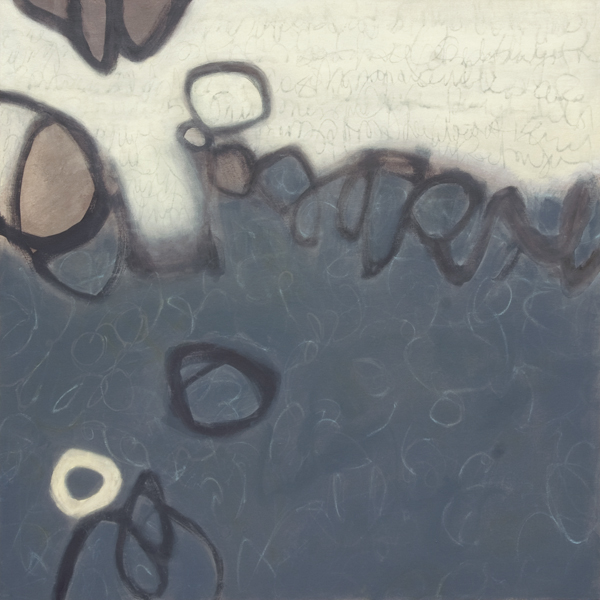 Tranquil Message, acrylic on Canvas, 40 x 40 in.
As an artist what I appreciate the most about Boas' work is her sense of balance and control with her media and subject matter. I studied her work for sometime prior to meeting with her, and felt the punctuated points of each painting. Abstract work communicates familiar and powerful messages that make our right brain work and search for explanation, clarity, and purpose. Paula Boas paintings give much to study - some improvisation and expressive movement, off-set with clean contrasting edges.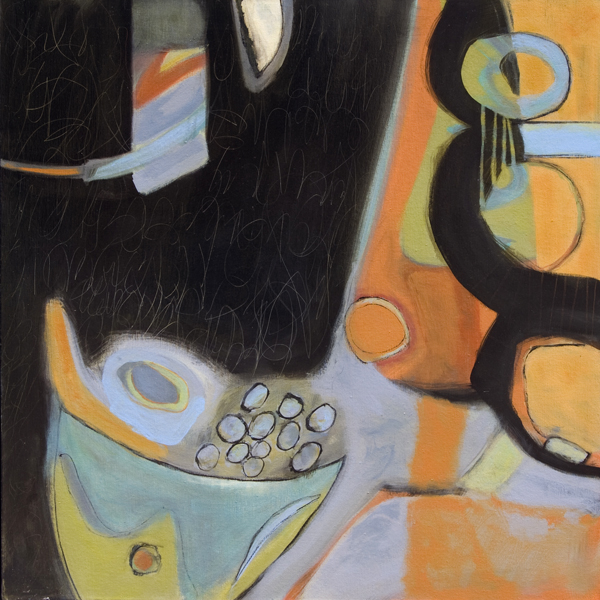 Yellow Cello and a Bowl of Fruit, acrylic on Canvas, 30 x 30 in.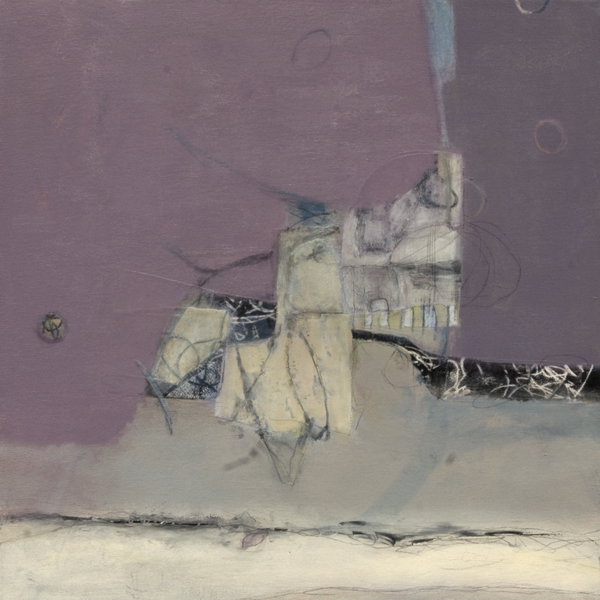 Above, mixed media on Canvas, 24 x 24 in.
Paula Boas is a former engineer who has been painting for over seven years. Originally from Pittsburgh, Pennsylvania she studied engineering at the University of Maryland. Currently her work is available at Lafayette Gallery, Valley Art Gallery, and Art Conceptsin Walnut Creek. You can also contact her directly to beautify your home or business with one of her beautiful works of art.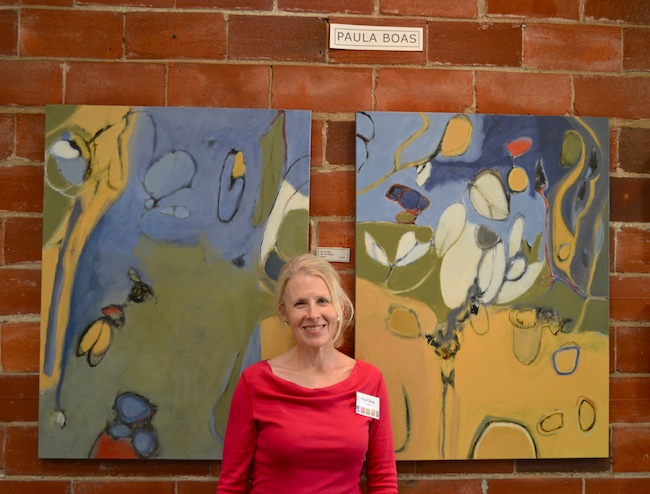 Artist Paula Boas at East Bay Open Studios
                           On the Edge, acrylic on Canvas, 40 x 64 in. (background paintings)
Official Website of Paula Boas
Michael Accorsi is an artist, painter working from his studio in Northern California. He writes about art on his Plotlines art blog on Tumblr. Connect with Michael on Facebook and Twitter as well.
Jun 06
PLOTLINES art journal: The Spectacular Work of Photographer Marissa McPeak -
The Spectacular Work of Photographer Marissa McPeak

by Michael Accorsi

Recently, I saw the brilliant work of Bay Area photographer Marissa McPeak on a collaborative project in San Jose. I think over the time I worked with Marissa the camera was around her neck even during meals.

I was…
Jun 04
La Bellezza della Toscana (The Beauty of Tuscany)
  I had originally planned to compile all of the travel paintings from a summer trip to Italy later this summer.  After seeing the pictures, the Facebook posts from friends and artists in Italy who have been devastated by recent earthquakes, I rushed to put this together to try and do something to help.  Even while writing this and compiling pictures of paintings, I read of another aftershock (5.1 magnitude) earthquake struck in Novi Di Modena in Emiglia-Romagna  (News Link).
                                                           Montalcino Watercolor, ©Accorsi Studios.
Catholic Relief Services has a operative in Rome - Caritas Internationalis where people can donate to help.  CRS has the highest percentage of funds that directly help the poor and traumatized in the world and I have worked with them for over 15 years.  If you would like more information on how to help - click here.
  I have compiled more than 20 paintings that are finally home from a show and will donate 10% of all the proceeds of sales of these paintings to CRS's relief effort in Rome to help earthquake victims, children and reconstruction efforts. 
                                      Vinyard di Montalcino, watercolor on paper. ©Accorsi Studios. 
  My family and I spent a vacation together in Montalcino during the summer of 2007.  Each morning I would wake up before the full sunrise to walk to capture the beautiful landscape of Montalcino and its vineyards while it too was still sleeping.  The only movement were the old ladies making breads in the dimly lit bakery.  Along the ridge near the Rocca di Montalcino fortress at the top of the town, I would sit and sketch privately for hours.  The colors of the landscape seemed to be more brilliant before the hot Tuscan sun bleeched their hue.  Trees seemed to be red, orange and violet at their base.  The fields a cool blue and olive vermillion.  The distant mountains were violet and light blue in the distance.  The floor of the valley beneath Montalcino looked as if it were a quilt of yellow, olive, and orange patches woven together with light rises of hills in between.
                                                        Montepulciano, crylic on canvas. ©Accorsi Studios.
     Take a look at the Italian paintings that were inspired by this trip.  I will donate 10% of the proceeds to the CRS earthquake relief effort in Rome.  It is such a beautiful place full of heartfelt and passionate people.  Thank you for supporting art and helping people recover in Italy. 
       Essence of Montepulciano. mixed media and collage on canvas. ©Accorsi Studios.
Jun 03
East Bay Open Studios,  June 2-3, 2012.
Notes from visiting the galleries, art studios, and collectives in Oakland and the East Bay in Northern California on Saturday, June 2nd…
The people and organizations that drive these events deserve as much attention and acknowledgement as the spectacular artwork itself.  Months of planning, redtape, and marketing culminate into a purposeful exchange between enthusiasts, artists, and gallerists.  Special thanks to Pro Arts studio in Oakland for supporting local emerging art in the Bay Area!
What a spectacular weekend of events in Oakland this summer.  Seeing the vibrant, positive interaction between people along warehouses on 26th Street, Jack London Square, and along the many back streets - is a beautiful thing.  Founded by Hiroko Kurihara, the Collaborative is, "an incubator of slow-food and slow fashion artisans practicing local, ethical manufacturing and innovative resourcefulness."
Here's a quick video span of the interior of the place…
Seemingly every alley, vacated business location, and warehouse was a cove of fantastic art and creativity of Oakland and East Bay Artists.  Please check out some of the fantastic artists showcasing their work this past weekend.
Nora Akino, printmaking
As an artist I can attest to the appreciation and thankfulness each of us have to the people and groups that work and financially support local art.  Events like this bring the community together, inspire, address strife, and heal.  Decorate your house, give a gift, buy a piece of art from these or any artists.  Here is a list of Open Studios participating artists in this year's event.  Thanks everyone for an uplifting and fun weekend. 
by Michael Accorsi
Michael Accorsi is an artist and blog writer in the San Francisco Bay, California.  His work is displayed at www.michaelaccorsi.com and he writes for his own art appreciation blog at Plotlines Art Journal.  Say hi on Facebook or follow his ridiculous tweets on Twitter.
May 20
                             Gordon Smedt, Mountaint, Oil on Canvas 72 x 80 in.
by Michael Accorsi
The San Francisco Art Fair surprised art lovers with one of the art events of the year on the waterfront piers of Fort Mason jutting out between Alcatraz Island and the breathtaking vista of The Golden Gate. The fair pleased the Northern California art enthusiasts with well over 68 local, national, and international art galleries exhibiting their finest work. Founder and Executive Director, Rick Friedman's vision to create and host a first rate art event in San Francisco delivered an invigorating statement that the art industry is vibrant in Northern California.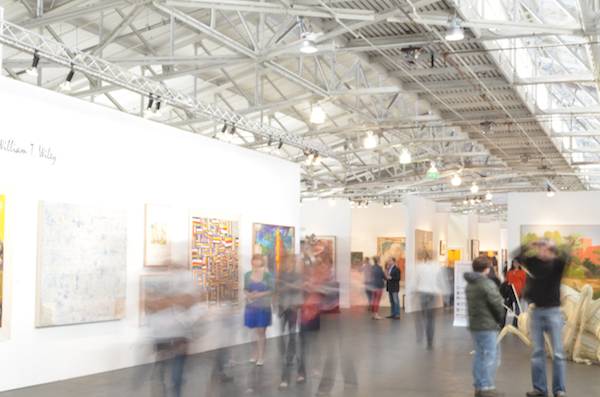 SF Art Fair, photo by Michael Accorsi
The show at Fort Mason was held in conjuction with shows at ArtHaus on Brannan Street and the San Francisco Academy of Art. The fair's main exhibit Anything Goes: The Whit and Whizdumb of William T. Wiley proudly displayed the riveting work of art veteran William T. Wiley,curated by SF based curator DeWitt Cheng. Additional events on Saturday focused on the music, art, and dance of Chinese culture with events showcased throughout the day.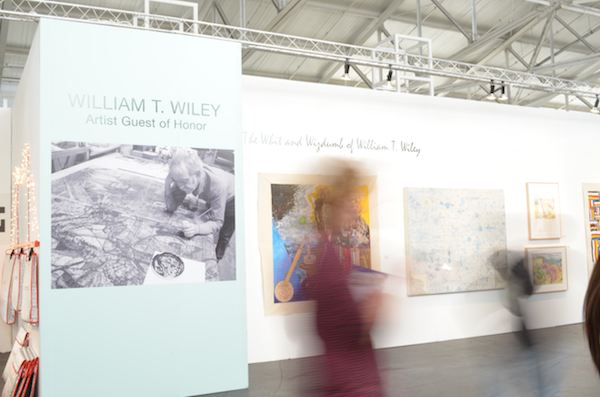 William T. Wiley exhibit, photo by Michael Accorsi.
With seemingly thousands of noteworthy pieces of art, here are some of the standout exhibits by galleries at this year's fair: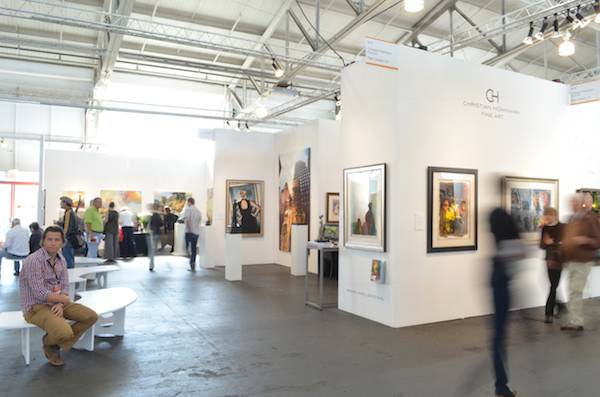 Christian Hohmann Fine Art exhibited work, photo by Michael Accorsi
Christian Hohmann Fine Art gallery in Palm Desert exhibited spectacular large paintings by Croatian artist Zivana Gojanovic pictured below.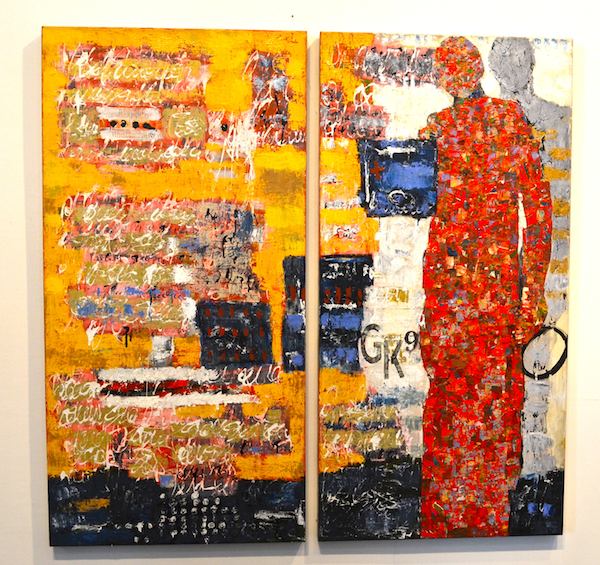 Zivana Gojanovic, Figure K9, 2011, Oil on Canvas, 48 x 48 in.
Hohmann's display also presented the abstract figurative paintings of Bay Area painter Michael Azgour. Be sure to visit the Christian Hohmann gallery to puruse the brilliant work of Eberhard Hueckstaedt.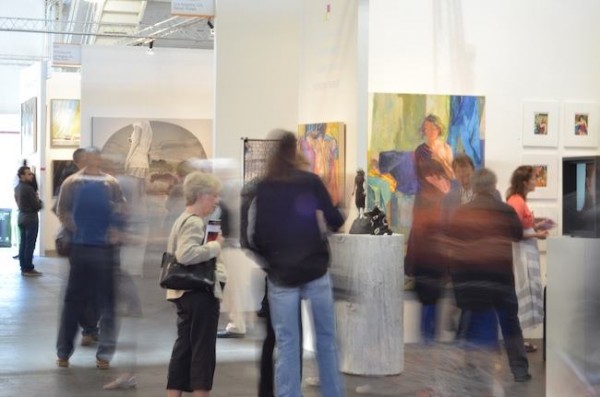 SF Art Fair, photo by Michael Accorsi
British Columbia gallery, Realism Fine Art Gallery presented spectacular figurative work by renowned artists such as: Malkolm T. Liepke, Nikolai Blokhim, Alexander Sherversky, Sorin Sorin, Nadia Lozano, Zin Lim, Andrei Belichenko, Alexei Veilikjanin, Vladmir, Goncharuk, Tamara Korako.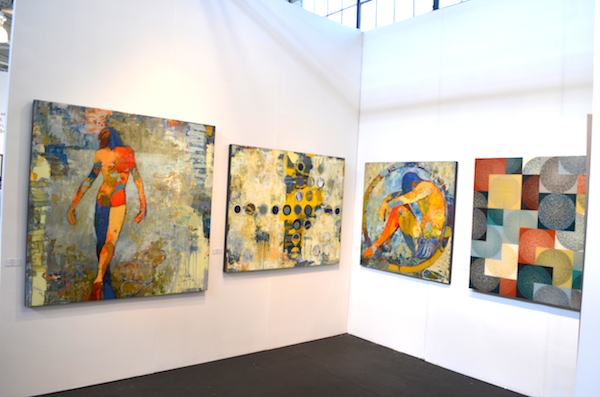 Stephanie Breitbard Gallery Exhibit, photo by Michael Accorsi
Mill Valley, California gallerist Stephanie Breitbard displayed the bold and gripping work of Jylian Gustlin and Paule Dubois Dupuis.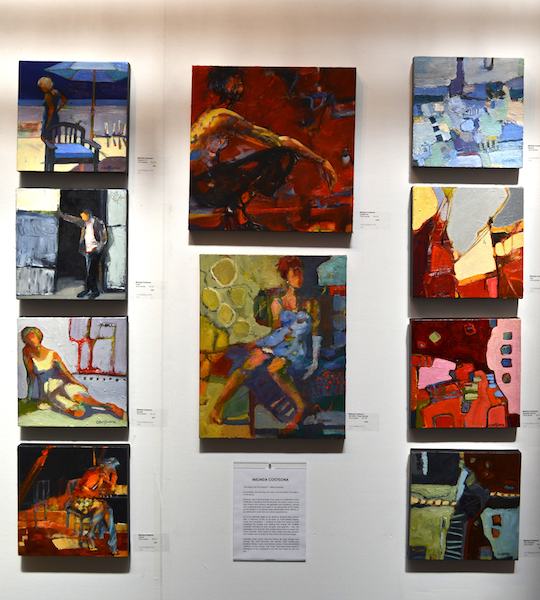 The Studio Shop Exhibit, photo by Michael Accorsi
Perhaps the surprise gallery of the day for me was The Studio Shop out of Burlingame, California. Managing Partner, Janet Martin was engaging and enthusiastic about the beautiful work of painter Melinda Cootsona.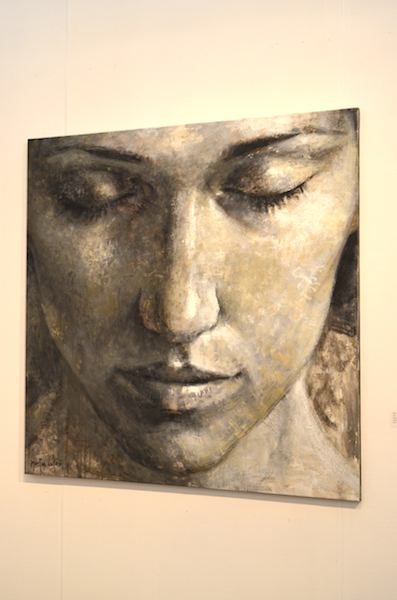 Montse Valdes, 3-3-12, Oil on canvas, 58 x 58 in.
Breathtaking work from Villa del Artes Galleries from Barcelona, Spain (pictured above) stood out among some of the top international galleries. The delicate, yet textured full-sized portraits spoke of Valdes' sophistication and technicality as an artist.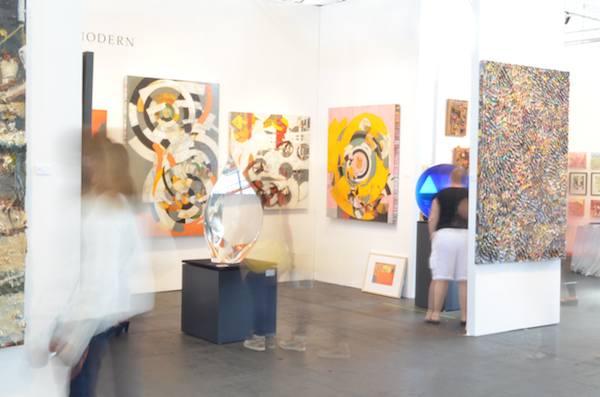 Westwood Modern Gallery Exhibit, photo by Michael Accorsi
Carmel's Westbrook Modern Gallery showcased the powerfully textured paintings of Dennis Hare, pictured above and below.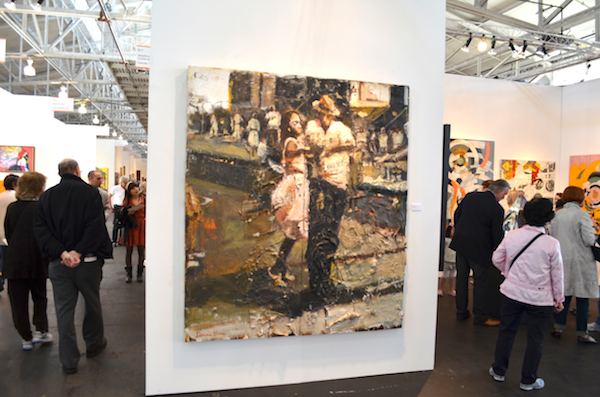 Westwood Modern's Dennis Hare paintings photo by Michael Accorsi
When the day was done, the gallery I revisited and one of the many that left enthusiasts buzzing was Hamamjian Modern of San Francisco. Paintings by Gordon Smedt and Douglas Andelin filled their display as onlookers gazed and the fantastic contemporary samples of modern art.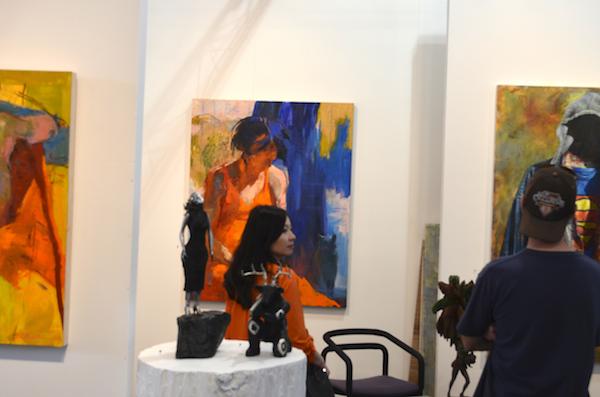 Hamamjian Modern's Exhibit photo by Michael Accorsi
Congratulations to Rick Friedman, the San Francisco Art Commission, and the dozens of sponsors and participating galleries that made this year's event a remarkable success. For a list of participating galleries and sponsoring agencies, please visit the San Francisco Art Fair. Also find participating galleries at the ArtHaus show.Please share my video highlights of the SF Art fair with your art and Facebook friends.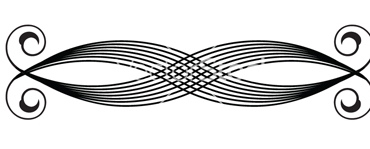 Michael Accorsi is an artist, painter working from his studio in Northern California. He writes about art on his blog Plotlines Art Journal. Connect with Michael on Facebook and Twitter as well.