studio notes
May 12
 Female Model, 24x30, Oil on Linen
by Michael Accorsi
Peruse Jason Juan's expressive, figurative work with your favorite music playing and glass of wine - it's an experience within itself. I had the opportunity to interview Jason this past week for EIL - enjoy!
MA: Tell us a little about your art background and studio. Where do you do most of your work?
Jason Juan: I recently moved to Bay Area. The art scene is still new to me at this point. For the last nine years I lived in Seattle and worked with Eastside Artists Collaborative, Gage Academy of Art, and Art or Not Terminal. I learned a great deal at EAC which is run by Larine Chung. We started to incorporate windows with natural light to the settings which create the best quality of lighting on the subjects.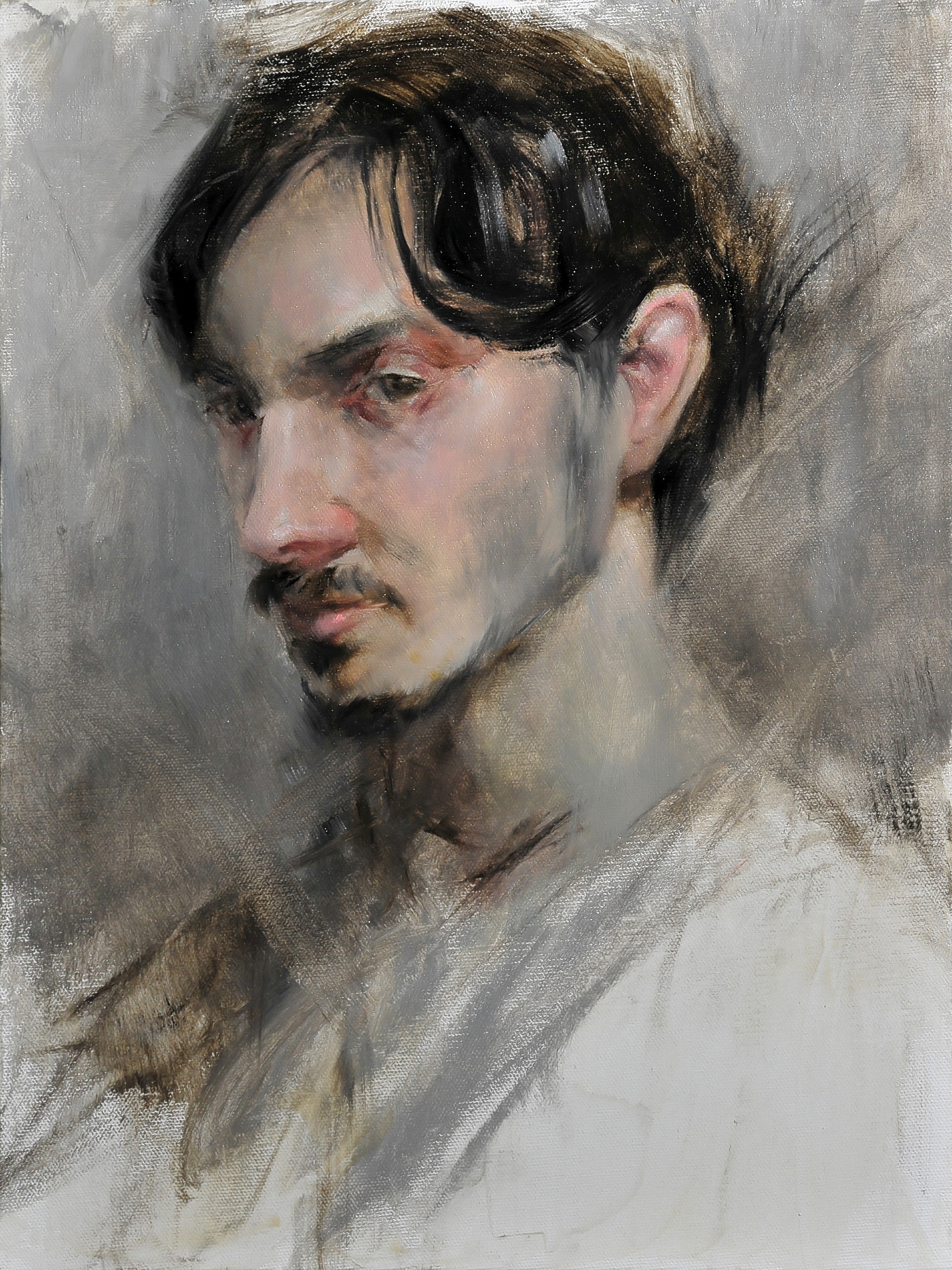 Artist, 12x16, Oil on Linen
Artist is a portrait of my artist friend. It is such a joy when a painting got done so smoothly and everything just feel right. If the setting and lighting are right, the painting is halfway done. When I was painting him, he was actually drawing as well until the last ten minutes I asked him to look at me so I could finish the eyes.
MA: Can you tell us the methods you use to start a large work?: (sketches, smaller mock-ups, etc.)
Jason Juan: Before I paint a large sized painting, I prepare a smaller oil sketch usually around 9"x 12" to 16"x20", or Charcoal/Pencil sketch which is usually 8.5"x 11". With large work, it has to be done in several stages. I prefer to paint straight for a few hours so the canvas is still wet or wait for another week until it totally dried so I can work on it again. Sometimes sandpaper is used in the process especially for the smooth area such as skin before I put another layer of paint. I also paint over my old work a lot if some of the abstract elements in the old work is something I was to help in the composition for the new painting.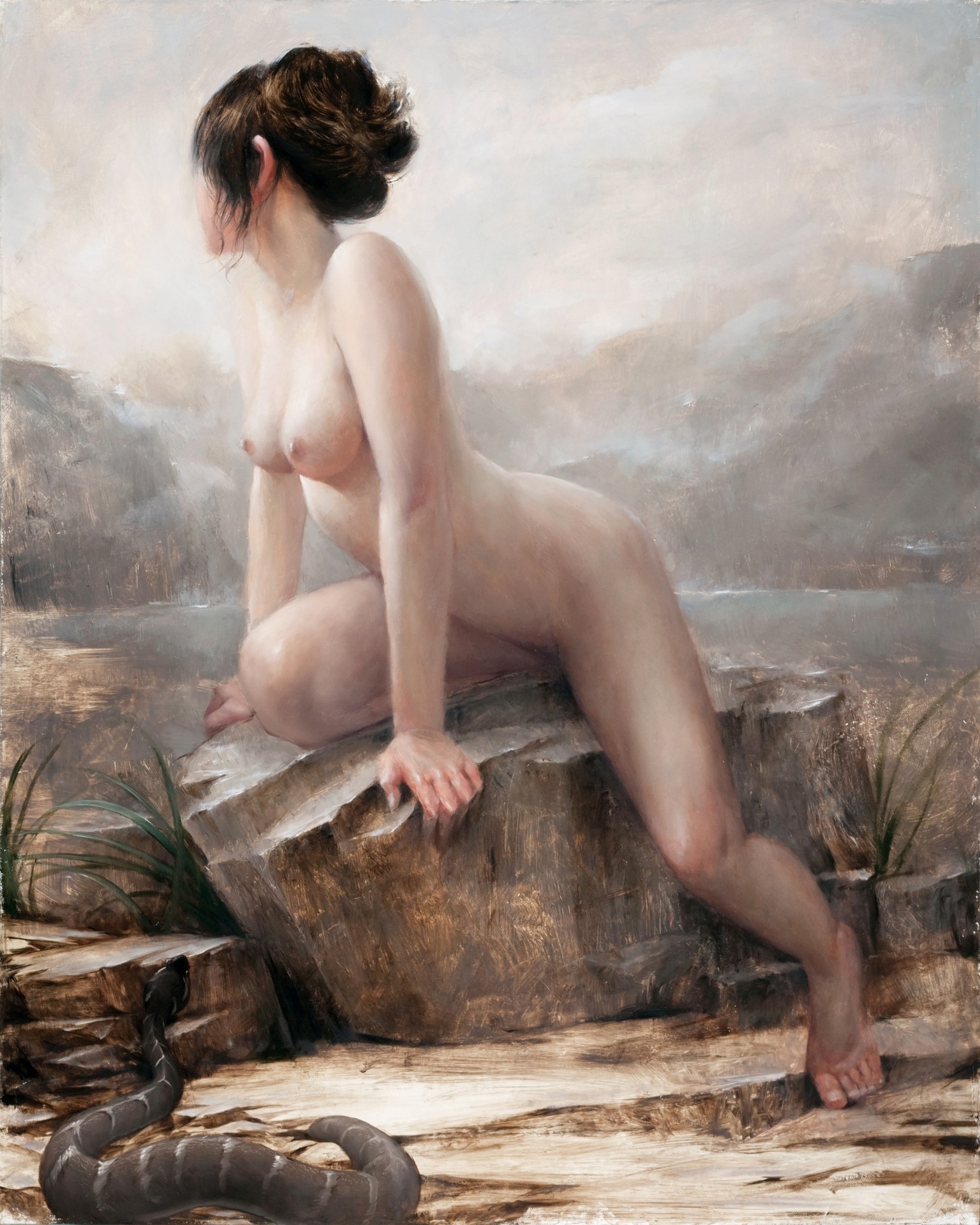 Temptation, 24x30, Oil on Linen
Temptation is a painting I developed from a quick sketch at one of my drawing sessions. The primary sketch is pictured below.
MA: What I enjoy about your figurative work is the interplay between realistic classical figurative work, then some interpretive contemporary twists and loose styles – how does this ability to have versatility work for you?
Jason Juan: I believe the contemporary twists and loose styles you saw in my paintings were from what I learn in Chinese calligraphy. Chinese calligraphy contains many elements which I feel has big connection with human figures, and sometimes I even feel they could be the same such as certain curve lines, compositions, and the power of the strokes.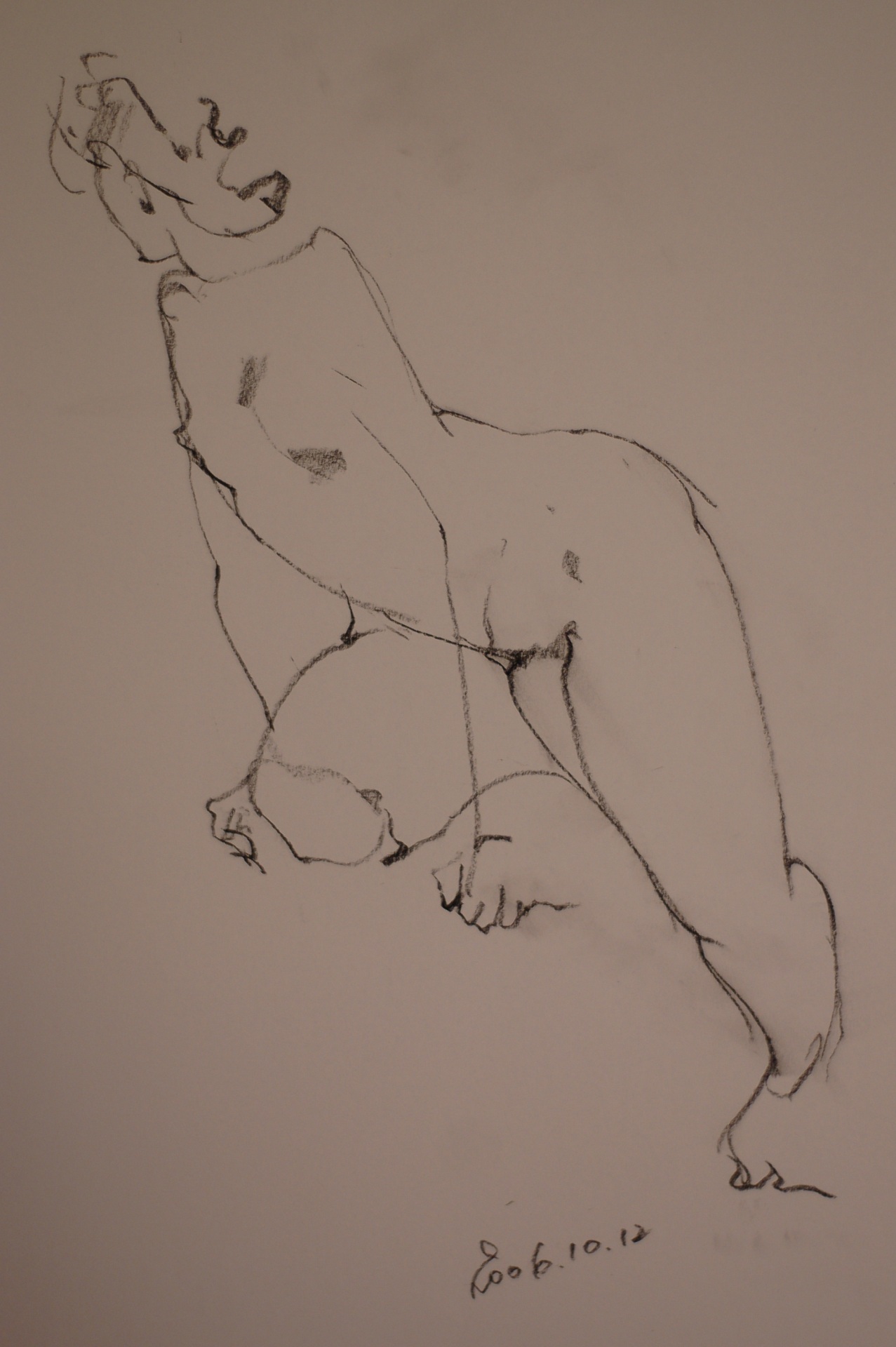 Figure Sketch, carbon pencil on paper  
MA: Are there any contemporary artists that you admire or made impressions on your work?
Jason Juan: There are many contemporary artists who have inspired my work. Here are just few of them: Chuck Close, Lucian Freud, David Leffel, Jeremy Lipking, Nikolay Blokhin and Carl Jackson, who is one of my instructors in school, and he shared personal and painting experience with me while I was learning to draw between 2002-2005.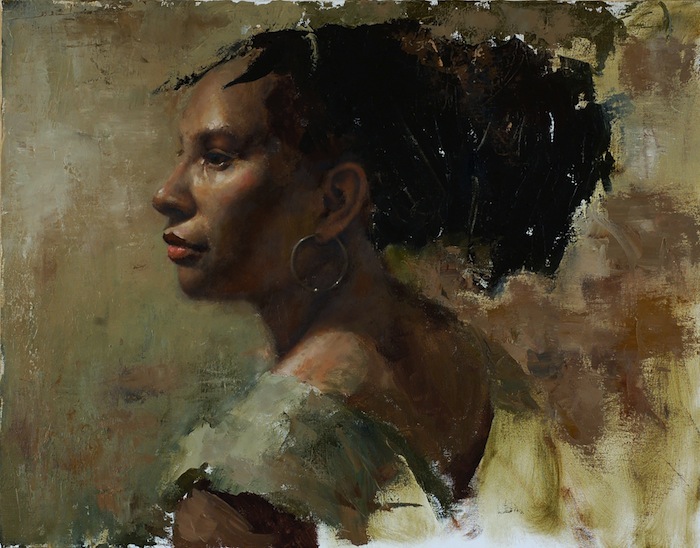 The Light #3, 22x28, Oil on Canvas
MA: Where can interested collectors see and purchase you work?
Jason Juan: I worked on both traditional media and digital media. Waterhouse Gallery at Santa Barbara carry some of my oil paintings. Visit my blog or contact me for more detail info if you are interested in more paintings and limited archival paintings of my digital works.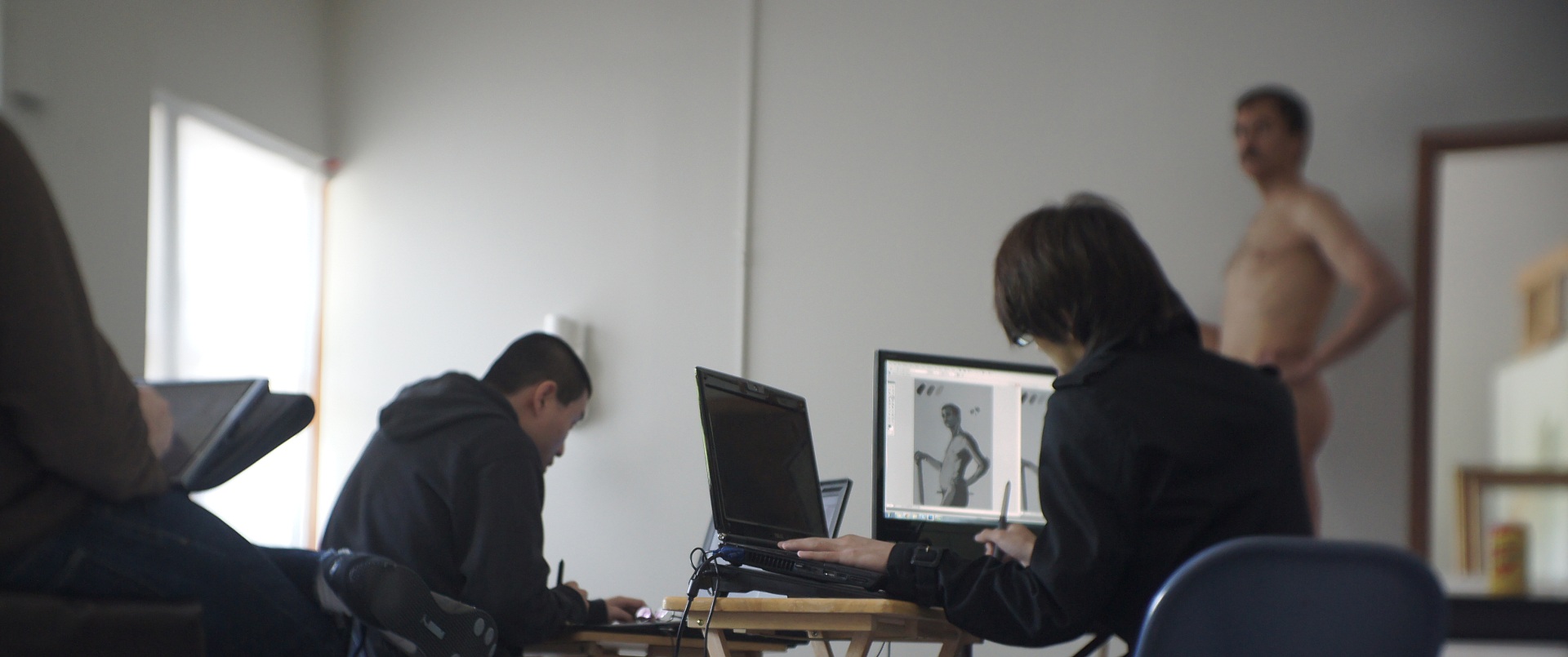 Jason Juan in his studio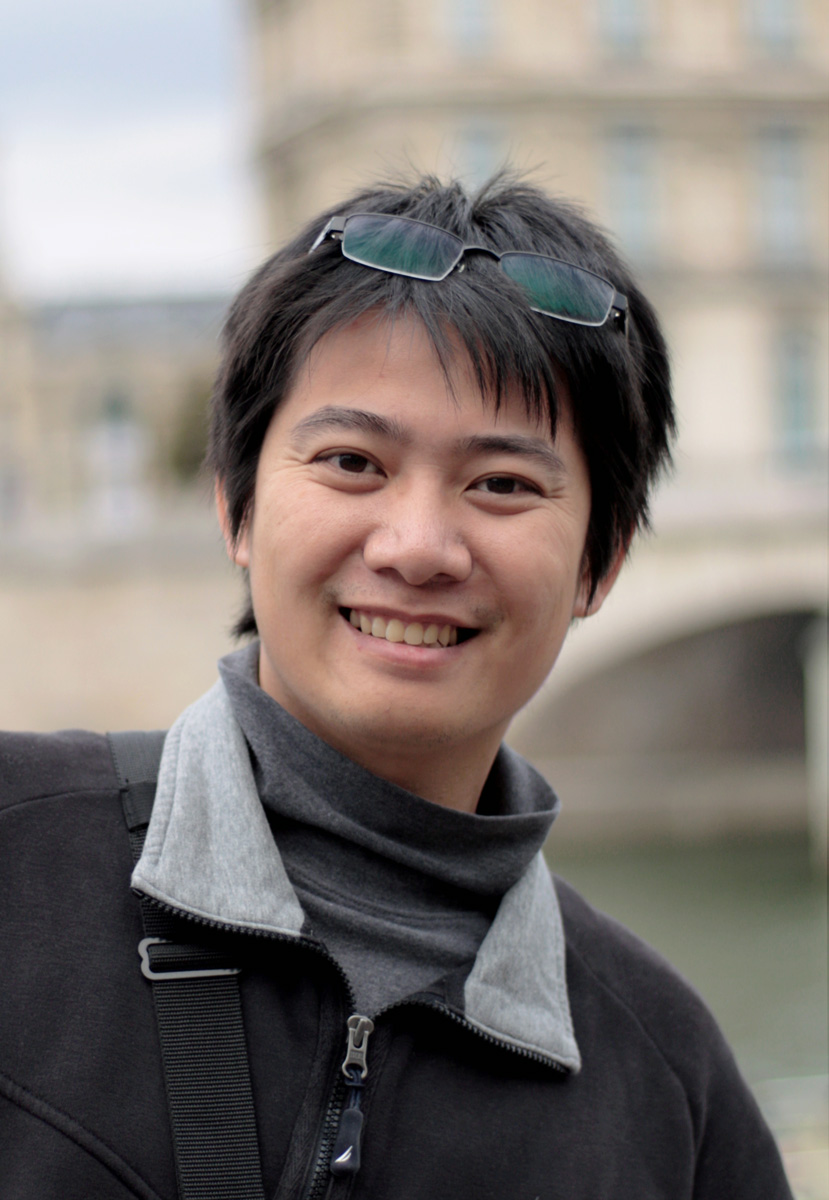 Jason Juan is a traditional and digital artist working in the San Francisco Bay area. After working for nine years in the Seattle art scene Juan is making an impression on contemporary artists across California. See more of his work and drop him a note on his blog.   Jason Juan website       
Michael Accorsi is an artist, painter working from his studio in Northern California. He writes about art on his blog Plotlines Art Journal. Connect with Michael on Facebook and Twitter as well.    
Apr 30
Artists Giving Back: School mural project on Navajo Reservation
by Michael Accorsi
Summer of 2005 an ambitious group of students and I ventured down to Tuba City, Arizona to volunteer and complete some service work projects in the summer education program on the Navajo Reservation.  We split into two groups one at Tuba City Primary, the other in Eagles Nest elementary school.

 
An amazing Navajo artist completed a beautiful mural in the center of the school so the administration of the school asked me to do a series of paintings to promote reading between the second and third grades which led to the library.  Almost like a small book within itself.

 
And I only had three days to complete the job.  The problem is the wall itself had to be repainted so I didn't have fresh blocks of color against a weary tan wall.  Also, I really only had 3 colors, found a little yellow.  The good news - its hot in Tuba City and paint would dry in half the time.  I decided to make a dozen or so panels using a familiar cartoon character - Snoopy and the story of the Precious Present by Spencer Johnson. 


The book the precious present by Spencer Johnson is a book that my father gave to me as a sentimental gift.  It is a story I have utilized in the classroom and on trips and retreats with students.  Its a wonderful fireside story to read to kids of any age.
 
Something particularly significant with The Precious Present and Navajo culture is Navajo people are keenly aware  of the living in the present - and maintaining a deep connection to time and tradition.  The traditional Navajo home the hogan has a door that faces east to pray and give homage to the rising Sun each day.  This serves as a fresh rejuvenating start to a new day and permits the troubles of yesterday to dissipate.
 
I altered how I portrayed the story to the Navajo children to incorporate some of these themes that are familiar and sacred within their culture.

 
People always want to know ways that they can help - either by sending donated items or money.  I always suggest to donate to Fr. Blaine Green at the Lady of Fatima Catholic church in Chinle, Arizona by Canyon de Chelly.  He facilitates two organizations that help Navajo people:  a clothing donation center and the Talbot House which provides support and help to those struggling with alcoholism on the reservation.  If you are interested in helping the church here is a link with their contact information.
Michael Accorsi is an artist and blogger in Northern California.  His oil paintings can be seen on his website.  Follow Michael on Twitter and on his studio Facebook page. 
Apr 28
Harry, 2007, Charcoal, pastel, acrylic on paper, 28 x 22 in [pictured above].

Painting is the primal impulse to mark. It's a visual record of the mind, the body, and the human spirit. For me there's an urgency to both create and destroy. Maybe it's out of sheer frustration that I work. Maybe it's just to satisfy a need to violate or to contradict. I'm not sure. There is a strong feeling though and I feel compelled to communicate this feeling.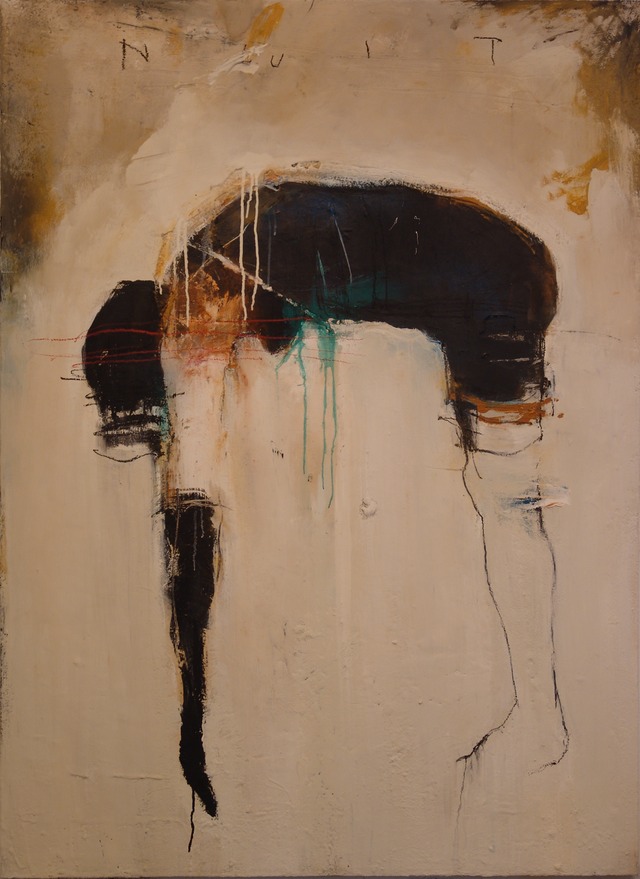 Nuit #5
Concerning content and meaning in my art, I'm never quite sure. The work seems to be layered with different meanings. It primarily deals with vulnerability, fragility, and submission. It conjures up past images and emotions… feelings about the church, about nuns, relationships with my mother, with my wife, and other persons both male and female that all seem to play a part of each painting. And then there's the surface, the physical quality of the work that eludes to decay, to violation, and to vulnerability.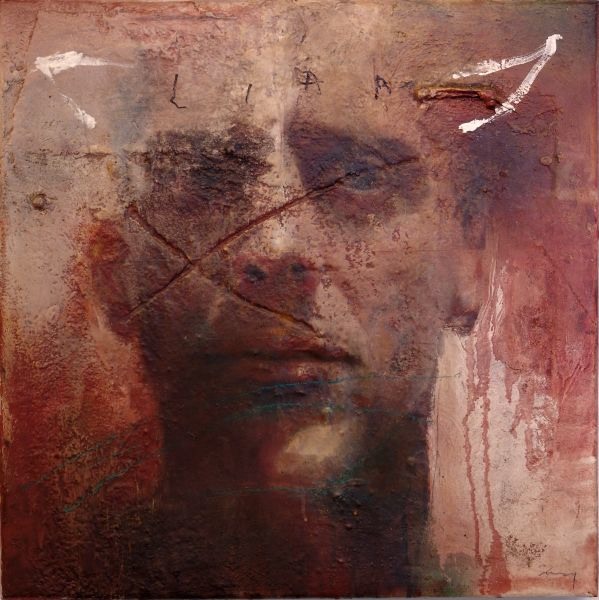 Liar, 2008, Mixed Media on Panel, 24 x 24 in.
The surfaces of the paintings are like excavations, surfaces layered with a variety of materials… dry pigments, acrylics, tar, fabrics, oils, bonding agents, along with different clays dug from the Georgia soil. From these materials figurative images are unearthed. Their surfaces reveal the painting's history, its process, and provide actual depth, both physically through build up and layering as well as emotional depth with destructive scarring.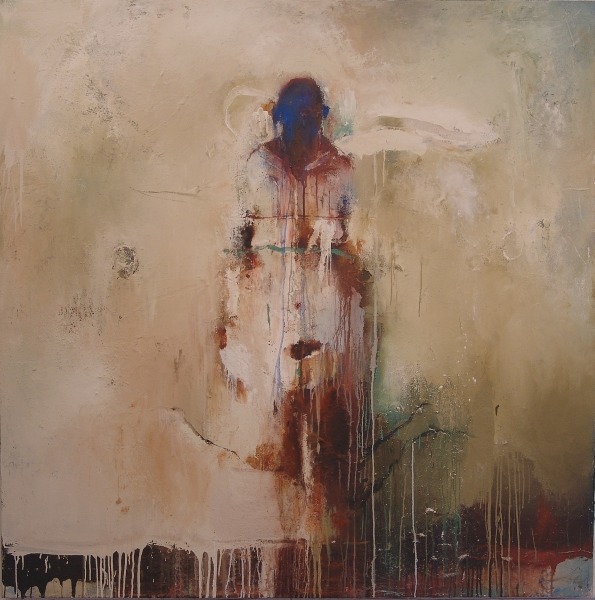 Figure #75, 2007, mixed media on canvas, 72 x 72 in.
The works are an existential search for an abstract presence, an intuitive search into the unknown, a search for truth revealed through distortion and through exaggeration. I feel connected to the past, to a timeless tradition in art that has always been a primary concern of man…the expression of existence. It's innate. It's primal. It's been there since the beginning and I too have become part of this search for meaning and identity through the creative process of art making.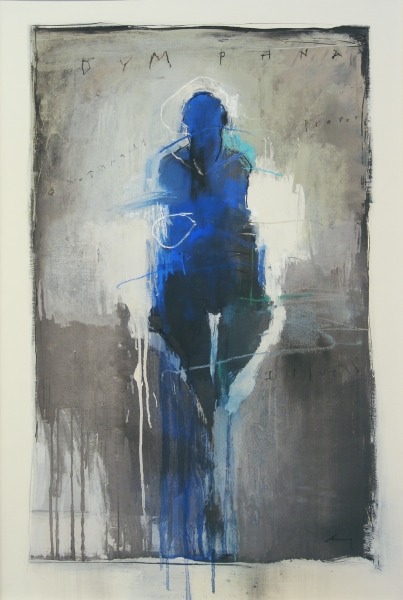 l07 dymphna
Artist Bio Harry Paul Ally is recognized as one of the South's finest painters. He has been a professor of drawing and painting at Valdosta State University in Georgia for more than 20 years. Harry Paul Ally has exhibited extensively in individual, group, and juried exhibitions since the 1970's and has won numerous awards for his paintings across the nation. Harry Paul Ally utilizes a wide variety of materials - dry pigments, acrylics, tar, fabrics, oils, bonding agents, and different clays dug from the Georgia soil - "From these materials the figurative images are unearthed," Ally states. "There is a markedly primitive feel to Harry Paul Ally's work. Even with his raw figures, each canvas seems like a realistic moment in nature," comments gallery owner, Bill Lowe.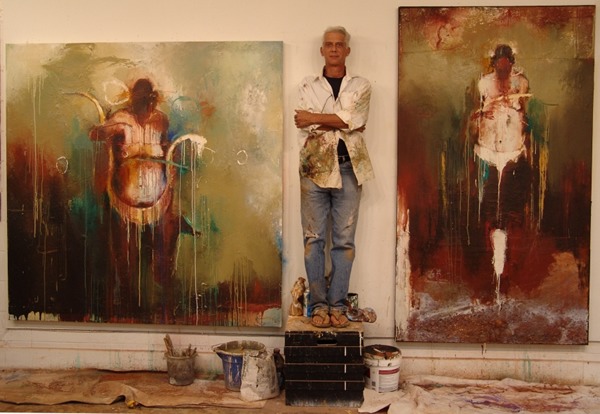 Harry Ally in his studio
Michael Accorsi is an artist, painter working from his studio in Northern California. He writes about art on his blog Plotlines Art Journal. Connect with Michael on Facebook and Twitter as well.    
Apr 21
Artist Showcase:  Aurore Lehilipponnat

I am thrilled to introduce you to French artist Aurore Lehilipponnat.  Connecting and seeing Aurore's work online is inspiring for me as an artist.  Her work is rich with movement, deep contrasts, and so expressive you can practically hear the message of her work. 

                                                                                portrait, graphite and charcoal, 65x50 cm     
  "We are the fruit of the encounters in our life,they absorb us, shape us,  even those we dislike. We are the sum of all the things that accumulate in our lives.  In this, we produce and reproduce all the elements that imbue in us. This long walk of life, this is the brush that came to meas a tool of expression, dissecting, contemplation of the surrounding world.  A wall between reality and imagination, a shield against violence, brutality, and all sorts of afflictions which can injure the fragility of the soul if exposed to these elements for too long."                                                          - Aurore Lehilipponnat
                                                                      butoh 1, graphite and charcoal, 65x50 cm
 
MA:  Tell us what is it like to create art in Trans-en-Provence?  Which cities are most receptive for artists in Var?

Aurore:  Trans-en-Provence is a place that I was immediately seduced by: the colors of the sky, sun and nature. When I arrived in the Var, I was coming for two weeks on vacation, I became transfixed by the beauty here.  Art and painting is quite successful here because there are many tourists.  The history and myth of St. Tropez and homeplace for Brigitte Bardot adds to the attraction of this beautiful port town. St. Tropez is a place both wild and coveted by the rich!
                                                                           Introspection, acrylic, 65x50 cm

MA: Tell us how your artistic creativity began.  Where did you study and/or train?

Aurore:  I was was born with a paintbrush in hand, from generation to generation, my family has passed on artistic talents and I flourished in that environment.  I drew constantly, which eventually led to my studies in the university in Bordeaux.  There I achieved my degree in graphic arts.  But my true inspiration began transform when I left the "university" setting and studied while I discovered life.
                                                                    butoh 2, mixed media 65x50 cm
 

MA:  Tell us how you about developing and setting up your subjects?  Your beautiful style with figures is simply remarkable, how do you go about setting up your paintings?   (can you please help tell the story behind a few pieces – subject and technique)?

Aurore:  My work is often instinctive, I try to find a link between the subject and my mood. For me, it is important to create a link with nature, and the place of man, give him his true nature and place in the world. I work with natural pigments, such as henna, clay, earth, and I also try to merge the body and nature, so some of my works are called "nature incorporated."

For years I drew my inspiration from real models but also based on images from Butoh dance, which fascinates me. I love working on the state of the soul, the dark side of human beings, suffering and hopes.

                                                                   butoh 3, mixed media 65x50 cm


MA:  What kind of art projects do you see yourself starting in the next few years?
 
Aurore:  In the future I would like to travel and exhibit abroad to further my work. Eventually, I realize a move is the way for my painting to progress. My painting contributes to my life a lot, it is a form of painting therapy in a way, it releases and creates a portal where my current feelings can flow.  In the future, I hope that my subjects are less tortured, and I lead the way to happier topics.
                                                                                                   butoh 4, mixed media 65x50 cm


MA: Which artists have influenced your work the most?

Aurore:  Many artists have always inspired a lot, but my master is Egon Schiele, I am fascinated by his talent and style.  Every day I spend time to see different styles.  I put a lot of time into studying detail.  It's wonderful with internet connections, it is easy to find immense talents every day!
                                                                                      butoh 5, mixed media 65x50 cm

Pictured is Aurore Lehilipponnat during one of her exhibitions with artist Serge Tenèze.
Aurore Lehilipponnat is an artist, painter in Trans-en-Provence, France.  Please visit her website www.aurore-lephilipponnat.com to see more of her work.  If you are interested in contacting Aurore, please email her at: a.lephilipponnat@gmail.com.


This article was written by Michael Accorsi for Plotlines Art Journal, April 2012.  michaelaccorsi@gmail.com. 
Apr 13
[pictured above, light around the body. 24" x 36"]
Artist Showcase: Mark Horst            
    New Mexico artist Mark Horst creates poetic work in oil that captivate and hold your attention.  His expressive natural composition, use of color and shading, make for a moving interpretative experience for the viewer.  I continuously flipped between paintings with the subject in the same pose, which Mark altered the color-light schemes from warm to cool and the painting took on an entirely fresh and evocative meaning . 
                                                                                                   art studio of Mark Horst                                                                 
Q:  What is the art scene like in Albuquerque?
This place is full of artists and they're good too and moving in lots of directions. The street scene is good—some great mural work. Lot's of talented hip hop painters—whose work regularly gets wiped out by the mayor's minions. Traditional landscape painting is big here and lots of people do it well.
A lot of artists can't afford to live in Santa Fe. So Albuquerque—about 60 miles from Santa Fe—has a close connection to the Santa Fe scene—which is where the big galleries congregate.
Q:  Where do you do most of your painting?  What would you say is the best modification or change you have made to your studio over the years?
I have a studio in an old factory and I'm there most days. I'm a firm believer in boredom as a form of creative motivation. So I need to spend enough time with my work to get over being impressed or intimidated by it. So maybe the best change I've made is not to change much of anything.
                    Narcissus redeemed. 24" x 48" oil on canvas
Q:  Can you tell us the methods you use to start a large work?:  (sketches, smaller mock-ups, etc.)
For me a large painting is often easier than a small one—I just find the gesture and the ability to move more paint around helps me. So I used to start with small studies and then move progressively bigger, but now, often, it's the opposite.
I still like drawing a lot. And I don't at all mind drawing into paint. Sometimes I use charcoal in wet paint. Lately I've been dragging my pastels through paint. I don't know if it's a good idea, but sometimes when the paint is getting hard to work into, I can't resist a good saturated pastel.
                                                                       quiet places no.15. (oil on canvas 40x30)
Q:  What aspect of creating your art has evolved the most over the past 3-4 years?
 I guess I'm more patient with my work now. Four years ago, I'd work on a painting for an afternoon and if it wasn't finished I'd probably paint over it. Now, I've found ways of keeping a painting alive or open for much longer. I'm not sure that makes them better, but it means I have more chances to get them off life support.
Q:  Your brilliant overlapping of color and strokes that you use to create edges and lines.. how much of that is intentional, how much is spontaneous?
Can't I be intentionally spontaneous? Hockney says spontaneity takes a lot of preparation!
So I do have a kind of dogmatic belief in the importance of destroying an image in order to save it. At every point in the process of painting, I'm working on ways to subvert my attempts to get everything in it's right place. After working to render an image accurately, I might brush it into a blurred, Richter-esque mess. Or I might use a scrapper to distort and blend all the parts and pieces that seem to be all isolated and distinct. There are lots of ways to destroy and image.
After doing my Dionysian best, I stand back, survey the battlefield and try to find a way to move forward.
                                                                                     light no.6.  (oil on canvas 24x30)
Q:  Your figurative work has fantastic expression and emotion.  I most of all enjoy the sense of transparency, incompleteness of some parts of the figure.  If applicable, do any art critics question your strategy with your work? (perhaps from someone who's artistic tastes evolve around realism?)  What is your response to this type of feedback.
Well so far I haven't attracted much critical attention, but I had a client in my studio the other day and he was looking at a painting and asked me if I often painted amputees! I couldn't figure out what he was talking about until I realized he thought one my models was missing a leg.
Can I just say, though, that in my opinion "realism" is not very real. We don't see things in this crisp, hyper-static state. When we see, we see motion, we see distortion, we see bits and fragments that we hold together with memory and an understanding of the world and how it works and what we can expect of it.
I think it was Charles Hawthorne ["Hawthorne on Painting"—a great book] who said that "a painting should always let the eye do some of the work." Nothing is more tedious to me than a painting that has resolved every ambiguity.
The other thing I'd say is that realist are interested in getting everything into their paintings whereas, I'm always trying to take things away—to eliminate details that don't support my overall goals.
                                                                     four pears no.1  (oil on canvas 24x30)
Q:  Which artistic influences do you reference from the most?
I try to look at everybody, but I do return over and over to Rembrandt, Velazquez, Chardin. I've always liked Diebenkorn and Uglow.  Among our contemporaries I often look at Richter, Garcia-Lopez and Marlene Dumas. Sophie Jodoin, Alex Kanevsky are always great.  My teacher Mike Karaken is a master of perceptual painting.
                                                                 the secret life no.2 (oil on canvas 30x40)
Q:  How much has the internet and social network created interest around your work?
Well it sure helps. Flickr was my life-line to the outside world for years. Before I showed my work to my own mother, I was posting stuff on Flickr and, you know, if you say nice things about other people's work, they'll do the same for you. And I can't tell you how important that was when I was taking baby steps as an artist.
                                   Artist: Painter,  Mark Horst
     Artist Mark Horst works from his studio in Albuquerque, New Mexico.  If you are interested in seeing more of Mark's work, visit his website: www.markhorststudio.com.  For inquiries about purchasing Mark's work, please email Mark at horst.mark@gmail.com.
Mark's work is shown at Canyon Road Contemporary Art in Santa Fe, New Mexico. 
This article was written by Michael Accorsi for Plotlines Art Journal, April 2012.  [michaelaccorsi@gmail.com.]  

Feb 23
20 Tax Reminders for Artists
20 Tax Reminders for Artists:
                                                     Norman Rockwell's Stockbridge studio
   Studio rent
   Art supplies
   Telephone/internet
   Cabs, subways, buses, tolls, parking
   Book, magazines, reference material
   Copying, printing
   Office supplies
   Promotional Materials: (Post cards, website)
   Film & processing
   Gas and electric
   Memberships (museums, professional organizations)
   Messengers, private mail carriers, postage (print from usps, paypal)
   Hanging fees, entry fees, framing
   Business insurance
   Tax preparation, legal fees
   Travel
   Business meals and entertainment
   Business gifts
   Equipment and software
   Cultural events/ museum entrance fees
If I forgot to list something or you have advise to help fellow artists, please reply below or email me, I'll be sure to pass it on. Enjoy!
Aug 16
Untitled, (Galleon Ship Silhouette), 1986. by Ed Ruscha.  Acrylic on Canvas.
Artist Profile: Ed Ruscha
The soulful and gripping artwork of Ed Ruscha has been a part of my creative voice since I first saw his acrylic ship paintings.  Ruscha's work is diverse, stretching from design and illustrative influences to contemporary work. 
The delicate, moody yet serious tones strike a chord within me.  Its as if at first glance he illustrated something I have thought or felt before. 
Fortunately, Rushca's work and exhibits are available to browse through his website.  A diverse collection is available on the Gagosian Gallery's website.  If you're in the LA area, the Hammer museum is featuring solo exhibit on Rushca titled, On the Road.  It's times like these that provoke artists to appreciate the gifts of the living artists, the beautiful impact they have on us and society.   
I am simple an enthusiast of his work.  I would greatly appreciate more information or feedback.  Please leave your impressions of Ruscha below or through email.
I also have a Facebook page and Twitter profile, if you love art, keep in touch, the internet inspires and brings us all together.
Aug 02
Artist Profile:  Nick Lepard
     Situated blocks from the action of Rogers Arena and athletic village of the 2010 Olympics, the studio of artist Nick Lepard, is in the center of the rich cultural life of downtown Vancouver. 
The tall ceilings, and expansive concrete walls of Lepard's studio seem to provide the ideal workspace for Lepard's huge canvas paintings.  "I enjoy it here, it's the perfect situation for me to try out some new directions with my work," reflects Lepard.  "For the past few years I've spent most of my time in Haida Gwaii or San Diego county.  When I am in Vancouver, like up north or in California, I'm mostly just squirreled away in the studio." 
                                                      When I Was An Animal  ©Nick Lepard.
With his brilliant and fluid expression, the artistic voice of Lepard's paintings is creating the resonance it deserves across the contemporary art scene.  "I want my paintings to be fresh."  "The large pieces work in layers, so mistakes actually contribute really unique aspects.  As the painting progresses and more layers are added, the image will be adjusted to become more "correct" but there remains a visible history," Lepard states.  
                                                    The Way In Which We Change ©Nick Lepard.
Nick's use of color and lively brushwork leap the features of his portraits off the paint surface a sculpted depth and texture.  Seeing his work up close its apparent Nick's comfort and composition with a large canvas suits his style well. 
                                                          From Milan To Vienna ©Nick Lepard.
His painting From Milan to Vienna was the first work I had seen of his.  At first sight Lepard's work reminded me of some other great artists who place their subjects close to the foreground such as Santiago Ydanez.  What is unique with Lepard's style is intense brush movement and creative palette choices – it captivates the viewer's interest with seemingly so much to study. 
                                                                  Monkey in Red  ©Nick Lepard.
He states, "There are things you can't plan for that evolve from making mistakes or from happenstance.  There are also the things that don't look right on their own, but, from experience, you know will be contextualized by another part of the painting…so it's a matter of patience and confidence and just letting some things sit." 
I then asked Nick a few questions:
What is the one tool in your studio you cannot live without?
NL:   "I use my camera a lot.  I find it valuable to shrink my pieces down to thumbnail size.  It is important that they work up-close and from a great distance.  I wonder though, if it is also the effect of living in Vancouver and seeing paintings mostly on the computer and as digital images."
                                                                          I Wanna Love ©Nick Lepard.
What artist do you reference from or find inspiration from the most?
NL:  "I was just in NY and saw several Lucian Freud paintings at the MET.  Being from Vancouver I had become familiar with his work through photographs, not having actually seen any in person.  It's weird, you have a relationship with this work… but then you see it and everything changes.  I imagine it's a bit like internet dating when you finally meet the person and you have all these opinions and expectations about them.  You have a relationship with something, but it isn't quite the thing itself.    Painting is so material based.  It's about physicality and presence in space.  Photographs of paintings really don't capture a whole lot.  So some of my influences are a bit skewed."
What I didn't know expect to discover during our visit was Nick's passion and interest for surfing.  Sparked by a surfing picture on his laptop, I was initially intrigued thinking he surfed off the coast of Vancouver.  Only to learn Nick and his friends have driven to far stretches of Alaska and surfed the near freezing temperatures in the Alaskan ocean to catch a wave and enjoy an adventure.
                           Northern Gentlemen: Nick and his friends surfing in Alaska.
We all have our tales of waves and surfing adventures, but I would never in a million years surf in water that required a 6mm wetsuit.  I went into the interview thinking I would be awestruck by his art, which was without question.  As we drove away I shook my head in amazement and admiration that he not only surfed those waters,  but seemed to enjoy doing so.
Nick Lepard is a artist and painter living in Vancouver, British Columbia.  You can learn more about Nick and see more of his work by visiting his website.  nicklepard.com.
This article was written by Michael Accorsi for Plotlines Art Journal August 2011.   
Aug 01
Triple Distributors.  acrylic, latex, and enamel on wood.  36x48.  ©Accorsi Studios.
I created this old wood sign on wood as a tribute to my grandfather's beer distributorship business.  My father Ernie wrote the following description about Triple Distributors.
Triple Distributors  by Ernie Accorsi

My father, Ernie Accorsi, Sr, started Triple Distributors in Hershey, Pa in 1937, just four years after the repeal of prohibition. There had been divided opinion if it was named after the three counties he served: Dauphin, Lebanon and Lancaster, or for the three partners: my dad and two "silent partners": James DeAngelis, who along with his family owned the DeAngelis Restaurant beginning in 1935, three blocks away, and Stanley Booth.
It was a distributorship that sold by the case only. We had a series of pickup trucks (one at a time), usually Chevrolet but also Ford, all painted green with door identifying the business, always painted by a family friend from nearby Hummelstown , Sig Stroehman. To complete the circle of irony, Sig also painted game balls for the Baltimore Colts of the NFL, of which I later I became General Manager. We made home deliveries in the pickup through Hershey and Hummelstown. We also had a larger Ford "rack truck", which we used to pick up large amounts of cases directly from some smaller Pennsylvania breweries like Graupners in Harrisburg, Old Reading and from large wholesalers which provided us with name National brands.
Our biggest sellers were Ballentine ($3.25 a case of 24 bottles) and local brands like Horlacher ($2.65 a case) and Rolling Rock ($2.35) for the "pony bottles". The "premium brands" at that time were Budweiser, Schlitz, Miller's and Pabst. They sold for $4.35 a case for cans.
My father sold the business in 1964.
Jul 02
Santa Cruz sixth graders publish their own magazine:  Tangerine Moon
Sixth grade girls, write, design, publish, and now sell their own magazine Tangerine Moon  in Santa Cruz, California.  The staff has a Facebook page set up and Bookshop Santa Cruz is currently selling their magazine. 
Want to read more? Good Times magazine in Santa Cruz wrote an inspiring article about this project.  This story renewed the confident and joy art and creation can instill in children that will last a lifetime.